There is a clear tendency of change in the air.
This is why MindForest in collaboration with the Luxembourg School of Business and Amcham Luxembourg held a panel discussion with renowned experts on October 26th 2022 on the topic of sustainability and the creation of durable change as a means of meeting the goals of tomorrow.
The shifting role of stakeholders
While it used to be the shareholders of a company who had the most influence, today this has shifted and companies need to focus much more on stakeholder value.

More than ever stakeholders at all levels are looking for purpose and hoping to create positive change in the world: consumers, employees, everyone, especially the younger generations is voting with their feet. This shift of opinion means that stakeholders are interested in meeting a real need, creating value, and doing good in a world, where we are experiencing more and more rapid changes and where sustainability needs to be focussed on the areas of people, planet, and prosperity.
In addition to this, the aim of fulfilling the UN's 17 Sustainable Development Goals (SGD's) as retained in the Agenda 2030, has also accelerated collaboration between governments and local communities.
Movements like Extinction Rebellions and Fridays for Future have arisen and gained in popularity bringing people together globally, united behind a common cause of campaigning for a more sustainable future.
While this change has been more pronounced at a community level, especially among the younger generations, businesses across the globe have also come to understand that it is time – if not already long overdue – to act and build on more sustainable business models. Theoretically a lot of models, such as the doughnut economy, circular economy etc have already been promoted, just as laws and regulations continue to be put in place to push for more sustainable and transparent ways of doing business. In this context, the newest regulations are linked to the EU taxonomy.
Thus, it is not only necessary from an environmental point of view to become "greener" and more responsible towards the planet, but also with respect to the other aspects of people and profit, and this is where stakeholders (customers, employees, and partners/suppliers) have started to put pressure on companies with subsequent implications on brand popularity, as well as employer branding (not to mention talent attraction and retention).
ISO norms, such as ISO 9001, 14001 and 26000, exist to regulate companies from a more norm-oriented aspect, and in the business world, the B Corp movement built on the 17 SDG's is making it possible to use business as a force for good.
The community of certified B Corps and B Leaders exists to help businesses evolve. With the support of local chapters and B Leaders, businesses can measure their current sustainability status quo thanks to the evaluation tool the Business Impact Assessment built on the 5 business dimensions – Governance, Workers, Community, Environment and Customers. They can also get support in undertaking sustainable changes to drive company purpose and objectives towards the greater good.
Creating Sustainable Change
MindForest – specialised in change management – is one forerunner in Luxembourg. The aim of their sustainable change approach is to support companies in not only creating durable change across all dimensions of their organisation, but also in reorientating themselves to fulfil a larger purpose for all their stakeholders to identify with and work towards common goals: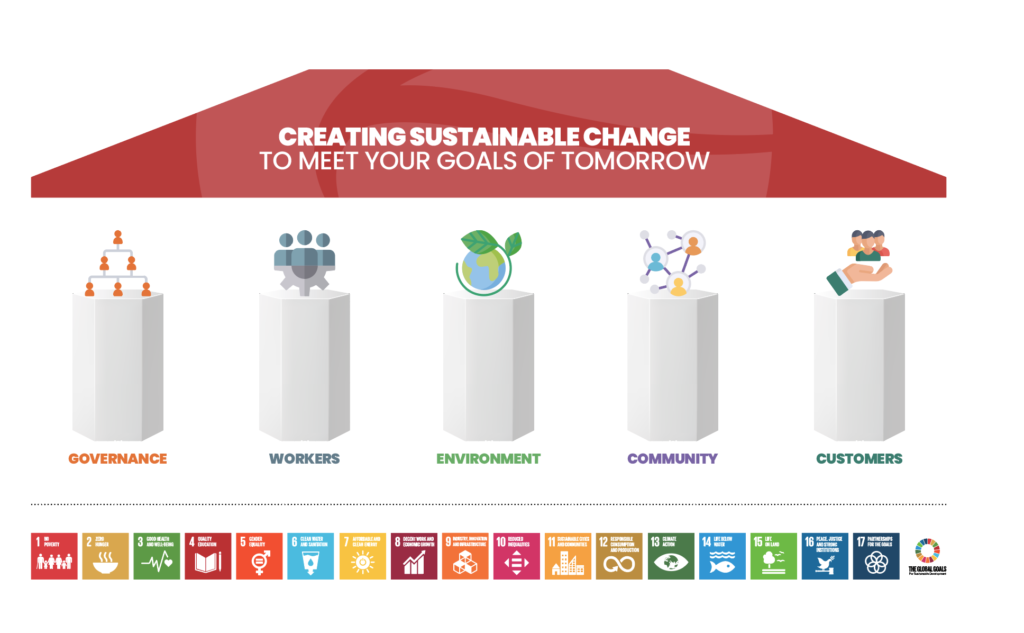 Together Everyone Achieves More
During the panel discussion, the team of experts discussed which specific changes and actions could be undertaken about the dimensions – Governance, Workers, Community and Environment. What have companies already managed to put in place and which aspirations are called for tomorrow?
Pillar supported by Prof. Dr. Giulia Negri, Associate Professor of Finance, Luxembourg School of Business
Even if it is nothing new, in recent years, leadership and market demand changes have made it even clearer that the financial sector – public and/or private – must also deal with the topic of sustainability on a larger scale.
While rules and regulations are constantly being introduced, improved and adapted, today in the public sector, investors range from financial to impact investors.
This has resulted in the emergence of new market leaders such as the Luxembourg Stock Exchange, which deals in green stocks and funds to meet increasing market demands and political goals.
In the private sector, things are slightly more complicated, as today there still aren't any commonly agreed KPI's to follow.
As a consequence, this means that while some companies might use one kind of measures and burst about how sustainable they are, others might meet more coherent sustainability goals and not communicate strongly enough about this even if they are quietly "doing better" than the first type of companies.
Statistics show that green investments –whether privately or publicly held – are not just a hype. They constitute a real incentive for investors to invest in sustainable businesses, as one can conclude from the graph below:
Pillar supported by Frédéric Evrard, HR Manager, ING Luxembourg
Hand in hand with sustainability in particular, the importance of ESG in the financial sector, as well as the expectations from and in employees have changed.
It is essential that sustainability be part of the leadership culture and thus embedded in an organisation's governance.
In the banking sector, from the outset the focus was on green investments and portfolios to meet market and customer needs, but it was appreciated that sustainability should also be lived internally and anchored in the culture and employee experience journey.
In other words, what is showcased outside needs to be lived through performance and the personal targets of the employees.
This not only impacts their daily work and tasks, but also cultural aspects such as renumeration policies, engagement, and wellbeing at work programs, as well as collaboration initiatives and other similar strategies.
To obtain this a mindset shift needs to be encouraged together with clear communication, enhanced trust, and the direct implementation of purpose at all levels of an organisation to empower and enable people to remain motivated, to achieve their personal goals and to follow their passion within and outside the workplace.
Pillar supported by Priscilia Talbot, Project Manager, IMS Luxembourg
A sustainable approach – whether governmental, organisational or at a community level -needs to result in a long-term positive impact. IMS is relatively young – celebrating 15 years in 2022 – and has seen a huge change in market demand when it comes to creating sustainable change in companies.
The organisation aspires to support businesses in creating more sustainable approaches linked to the three pillars of People, Planet and Prosperity.
From a community point of view, there is a strong focus on Diversity, Equity and Inclusion (DEI), in this context one of the best-known products is the Diversity Charter, today 251 companies in Luxembourg have signed up to be part of a community and collaborate with like-minded others to embrace and push for more DEI in the workplace.
Further, IMS provides tools for companies to improve their community work, wellbeing strategies as well as supporting initiatives in the areas of youth inclusion and human rights.
Since October 2022, IMS has also served as community builder for B Corps and B Leaders in Luxembourg to team up for a more sustainable and impactful tomorrow.
Pillar supported by Armin Neises, Founder and CEO, Waves
One thing is clear – we might have put a lot of things into place, nonetheless we are still far from achieving the goal of creating a more sustainable tomorrow. For this we need more disruptive change to happen. Measuring sustainability actions, including CO2 emissions, were until today not a must have but a nice to have.
Even if it is a great step in the right direction to make corporate sustainability reporting mandatory – this will become mandatory for listed companies by end of 2022 – as sustainability experts, who have developed a sustainability management platform, we see it every day: there is still too much ignorance and an overall lack of urgency to truly drive change in the right direction.
We really need a mindset shift to learn how to live and act more sustainably not only as part of a business and/or community, but also in simple daily decisions. The entire leadership and management circle needs to implement measurable goals and objectives linked to concrete actions. This will in turn enable them to report on changes, reduce negative impacts and of course show improvements as part of mandatory reporting. An additional motivational factor consists in showcasing the beneficial impacts as a means of encouraging everyone as part of a team to go further.
Drive sustainable business change through positive impact
Rome was not built in a day. And a more sustainable Rome needs to be built step by step, brick by brick.
Sustainable business is a complex topic that should be approached as part of a global ambition linked to a strategy overarching all business dimensions, creating cross functional links, and setting measurable objectives and goals with concrete actions to meet the standards of tomorrow.
The dimensions that were treated in depth during the panel discussion indeed built the foundation for the customer dimension, as all aspects are part of puzzle revealing how customers choose their purchases and define their loyalty to one company over another.
With this in mind, a sustainable change approach needs to show the relevance of a firm's relationship with all its critical stakeholders, as a means of leading to better performance whilst simultaneously integrating both business and societal considerations to create strong, sustainable stakeholder value.
Are you eager to learn more about how MindForest can help?
What is your strategy to drive sustainable change for a positive impact of tomorrow? Have you already started thinking about the measures you could implement?