We are all part of the puzzle
Back in 2015 the United Nations (UN) adopted the 17 Sustainable Development Goals (SDGs) as a universal call to action to ensure that by 2030 all people enjoy peace and prosperity.
It is important to note that the 17 SDGs are interrelated so that all development must in the end equally support social, economic, and environmental sustainability.
While countries have committed to prioritizing progress towards the 17 SDGs, businesses need to act too. These ambitious goals concern all stakeholders and a clear shift in employee and customer behaviour confirms this[1].
Further, the EU taxonomy and ESG regulations are pushing companies to take a closer look at their business models as a means of identifying where they can achieve the greatest impact.
Since not all aspects of E-S-G are a priority to all businesses and it is close to impossible to meet all 17 SDGs with bravura, a business today must choose wisely before deciding which aspects and goals to focus on.
New business models are required
The way we have been/are doing business cannot continue. We have all heard about different newer economic systems such as the circular economy and doughnut economy.
Whichever way we choose to follow, we must keep in mind that our business model needs an overhaul to become sustainable on a long-term basis. To quote the initiative B Lab[1] we need to find a business model that works for us while supporting the creation of a more inclusive, equitable and regenerative economic system[2].
In a study conducted by McKinsey in 2021, business leaders predicted that by 2026 at least half of their revenue streams will come from new products and services that do not exist today and 92% believe that new businesses built in the next 5 years will address sustainability to some extent[3].
[4] B Lab Europe is part of the global B Lab Network. Together they create economic systems change through standards, policies, tools, and programs for business and certifies companies known as B Corps.
How do we revamp our businesses?
The message is clear, we need to get our thinking hats on to drive the change. We need to become innovative and creative while combining technology and knowhow to find solutions. 
While there have been lots of different attempts to become more sustainable, many of them have – in the past – seemingly ended up as pure window-dressing and green-washing depending on organisation and sector.
It was only in the 1970's that CSR truly began to take hold. This was only compounded in 1971 when the concept of the social contract between businesses and society was announced by the Committee for Economic Development[5].
However, it wasn't until the 1990's that a CSR system as we know it today was developed and yet even then a corporate CSR committee was considered a novelty and was generally regarded as the answer to all questions concerning sustainability. Even if it was a great step in the right direction, it often only covered the environmental aspect and sometimes the wellbeing of employees. This meant that it was just not far reaching enough and did not cover all elements of what we now call sustainable business.
Today it is clear, that a sustainable business approach not only has to be strongly supported by leadership. It must be incorporated in the company's overall business strategy and ambition.
A leader today needs to position him-/herself and his/her organisation based on purpose combined with strong values.
If we look back to 2009 when Simon Sinek marketed his concept of the Golden Circle (why, how, what), it was at that time a pioneering way to distinguish exceptional leaders and companies from the mediocre. Little did we know that this inspiring work would become more relevant than ever.
Back then Simon Sinek emphasised the importance of purpose for a company, as even if highly relevant, profit is "just" a result.
Inspiring people think and communicate from the inside out, meaning what inspires people is not what you do, it is why you do something, why your organisation exists. This is where you get the real buy-in – from all stakeholders.
How do we translate this into a sustainable business strategy, while also considering ESG regulations and the 17 SDGs?
A comprehensive 360° Approach
Embarking towards a sustainable future often not only requires courage, energy, and overview, it requires inspiration, creativity, and guidance to drive a such change within your company.
Therefore – inspired by B Lab's work – MindForest has developed a sustainable business change programme to help you transform and meet your goals of tomorrow.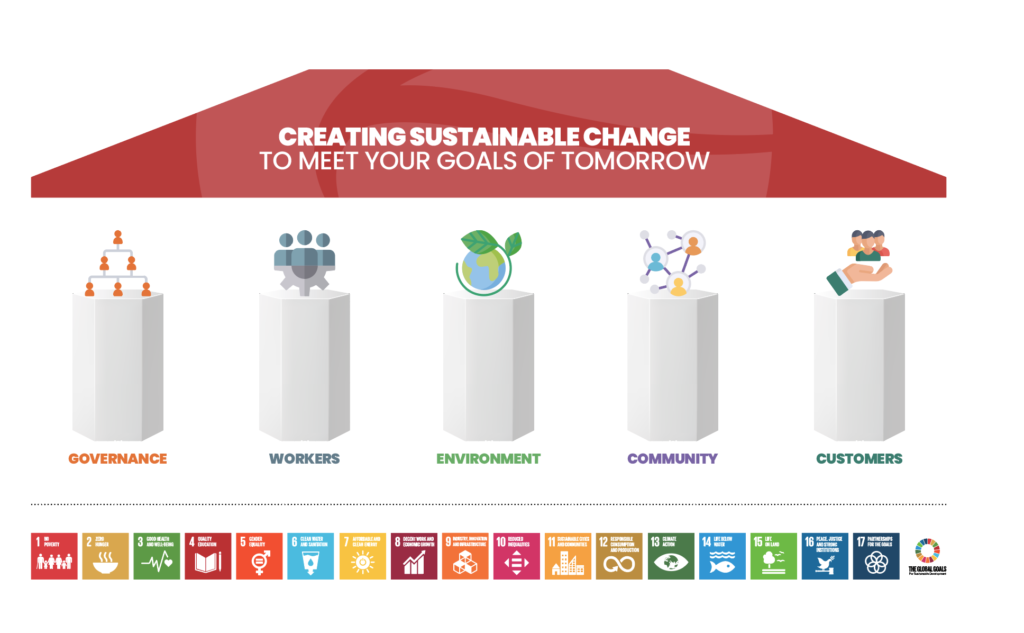 Formalising your vision, mission and values can help you when formulating a sustainable purpose-driven business strategy. Similarly, such an adapted and formal governance, where everything is documented, helps you to remain focused. Following through on this task, could constitute the final differentiator from competitors and a means of gaining a competitive advantage.
Further, gaining clarity about governance also helps align your overall strategy with your corporate culture at three levels: organisational, team and individual level.
Are you looking to lead a successful purpose-driven company?
Then don't forget the words of Richard Branson: "Happy employees' equal happy customers. Similarly, an unhappy employee can ruin the brand experience for not just one, but numerous customers." This in the long run will not only ruin your brand image, it will also undermine your return on investment.
It is all about culture. It is essential to create a durable, safe work-environment where employees are treated with kindness and where they are given an honourable and strong purpose to work towards. This in return will not only make them happy, motivated, and engaged. It will make them your company's greatest ambassadors.
Monitoring and recording your environmental impact not only gives you an idea of how you stand with respect to current regulations; measuring greenhouse gas emissions can also have an impact on the bottom line by reducing consumption and hence making financial savings.
While some ways of changing behaviours can be straight-forward, certain hidden factors impacting overall consumption are worth investigating, especially as regulations become increasingly demanding for both service and product providers.
A business is never an isolated island. There are obvious and hidden connectors on a local, regional, and global level. Businesses behaving ethically correct and considering the importance of a community's power can benefit from an improved ability to attract and retain talent, generate positive media attention, and increase customer goodwill.
Further, from a business perspective, the benefits of diversity are well documented. McKinsey found that companies with a high representation of female executives have a 47% higher average return on equity than other businesses[6].
Coming back to Simon Sinek and the Golden Circle, when looking at the success of purpose-driven organisations, by now it is evident that "people don't by what you do, they buy why you do it". Creating long-term customer relations and being transparent about your products/services is the best way to create long-term value.
When customers buy products or services, they want to be certain that they are making the best decision possible. Today more than ever, this means that they need transparency around the product/service knowing that it meets their expectations not only in terms of price/quality ratio, but also on the after sales services and the sustainable impact scale.
5 steps towards a sustainable future
With all this in mind, there is a lot at stake when creating a sustainable business model. It represents a transformation across all company departments and must be built on a solid and well-conceived foundation.
For this MindForest has developed a 5-step approach to support you in creating sustainable change to meet your goals of tomorrow:
Based on our many years of experience in complex change management, together we will explore your status-quo and clarify and formulate your future sustainable ambition based on ESG criteria and the 17 SDGs.
Only thereafter will we start designing and working on innovation and improvements to be implemented to reach the set goals, while still bearing all the pillars in mind. Here we rely on a participative approach built on collective intelligence to ensure the best results.
Once implemented we will continue to review the outcome until every aspect has been aligned to your unique business as well as internal and external stakeholders.
Are you ready to change?
Are you ready to lead with purpose and drive change? Are you ready to be a force for good? Take action and get in touch today!

[1] https://www.undp.org/sustainable-development-goals (accessed on 07/09/2022) [2] B Lab Europe is part of the global B Lab Network. Together they create economic systems change through standards, policies, tools, and programs for business and certifies companies known as B Corps [3] https://bcorporation.eu/ (accessed on 07/09/2022) [4] 2021 global report: The state of new business-building, Leap by McKinsey [5] https://accp.org/resources/csr-resources/accp-insights-blog/corporate-social-responsibility-brief-history/ (accessed on 12/09/2022) [6] The B Corp Handbook (2019, page 92)