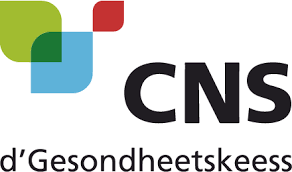 The National Health Fund (Caisse Nationale de Santé – CNS) was created by the law of 13 May 2008 as a result of the merger of the Union of Sickness Funds (UCM) and several private sector sickness funds. The entity is responsible for the management of health and maternity insurance and long-term care insurance. The CNS is a public institution, with a civil status, under the supervision of the Minister of Social Security, exercised through the General Inspectorate of Social Security. It currently has almost 500 employees and manages almost. The activities of the CNS are grouped into 14 departments.

In 2023, the CNS will move to a brand-new building, the "Cité de la sécurité sociale", built by the Fonds de Compensation, close to the Luxembourg City station. This building will bring together all the social security authorities and departments of the CNS. The CNS wishes to convert its new premises into collaborative spaces with open offices for 4 to 8 people.
In 2019, the Cash Benefits (CB) department was located in Glesener Street close to the railway station, but the premises were no longer suitable given the department's growth. It was not possible to wait another 4 years to move, so the CNS decided to launch a pilot project based on this department, with the aim of evaluating the use of collaborative spaces in a new building. The H2O building in Hesperange was chosen.
"CNS and MindForest have been successfully working together for several years now. When we moved from rue Glesener to the H2O premises, in the Hesperange area in 2019, they helped us to structure our needs in terms of designing the floorplan of our future offices, so that our teams would benefit from an optimal organisation in the new building, that enables meaningful collaboration. MindForest really supported us in taking into account the end users' needs for the new building, and highlighted the importance of keeping a "humane" approach at all time, by communicating about the move to our collaborators from the very early stages of the project. Thanks to a structured method and a seamless collaboration between the CNS, Tétris (our architect) and MindForest's teams on this project, our staff is better prepared for the upcoming change that is the move to Cité de la sécurité sociale."
Denise Seywert
Director of the CNS

MindForest accompanied the CNS in the run-up to the move to ensure the adoption of the new collaborative spaces and to gather feedback for the future move of all departments to the Social Security City.



The next success story is yours!
Would you also like to be backed up for your company's relocation project?