Only by staying one step ahead of current trends can we supply the cutting-edge content our clients require. For this reason, working together on project concepts and the creation of (visual) support materials plays a crucial role in the life cycle of all our projects, no matter if internal or external – the client must always get the best experience.
To this end we decided to create an area in our offices, where the team can co-create whether at high or low tables or relaxing in the cosy corner where we also have our extensive library. The whole room is very light and airy, we chose to work with pastel colours and lots of wood, as this helps to create a feeling of being outside an office context and makes it easier to "think out of the box".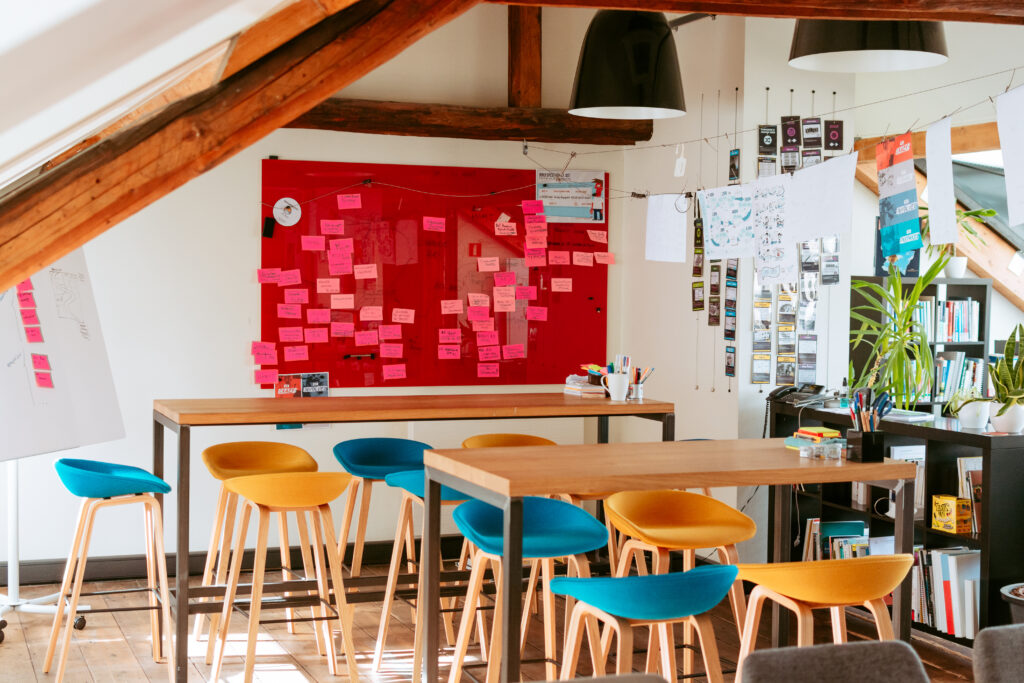 Collaboration started way before
To be fair we already had creative areas around our offices, but they were less generously dimensioned than The Deck. Sometimes you literally need a larger area to generate new ideas and encourage creativity. The main difference we have observed, is that project teams are happy to spend time in this area and genuinely seem encouraged to brainstorm together.

Prior to setting up The Deck we discussed our requirements internally and tried to optimise the use of existing furniture and fittings, by recycling such elements it was possible to create a new area without unnecessary expenditure and completely in line with our corporate CSR strategy of sustainability and eco-responsibility. In fact, most companies dispose of a wide range of furniture and other materials, which have been dispersed around their offices over the years; by assessing their utility they can be successfully integrated into such a concept and create a completely different working atmosphere at relatively low cost. Small additions like plants and pictures contribute to the overall impression and make employees feel more creative.
34, rue Michel Rodange
L-2430 Luxembourg
Come and discover it for yourself!
It's your turn to organise your event here