LEGO® Serious Play®: What role do bricks we know from our childhood play for modern organisations?
Leaders within the business world could argue that there is no such thing as an easy decision; global markets are heavily interconnected, customers are well informed and local impacts may have global consequences – this list could go forever.
We are living in a VUCA world
It is safe to say we live in a VUCA world – VUCA being an acronym for :
But what does this mean ?
Volatility stands for the rapidness of change. Even though the status quo may seem to constitute a relatively stable condition, it can be equally disrupted by external and internal events. It is therefore fair to say, that Volatility really goes hand in hand with uncertainty – so how predictable is our future?
With respect to complexity, one refers to the many (in)visible connections and factors that link operations – some may be easy to predict and follow up upon, others may currently be entirely out of scope. Companies may use strategic foresight to bring light into the dark – or at least to brighten up the shadows.
Although complexity is often met with confusion, panic, or resistance among employees – it represents in reality a highly engaging situation in which true innovation can take place, when the pieces of the puzzle are slowly put together.
Ambiguity rounds of the acronym by extrapolating the unawareness of situations, the so-called unknown unknown.
LEGO® Serious Play® – at the right time for the right purpose
As frightening as a VUCA world may seem, it provides scope for countless opportunities: those who succeed in navigating through such a complex world can benefit from innovative ideas, while simultaneously mitigating the negative aspects. This is where LEGO® Serious Play® (LSP) comes into play. Will this method provide you with precise answers to all uncertain events within a couple of workshops? Most definitely not. Will it help you structure your company vision, and make future events more tangible, thus helping you to navigate through a VUCA situation? Yes, it will…. It looks like we have a winner!
Just as the name suggests – yes, you will play, however it's serious business gamification. LSP workshops require participants to engage in meaningful discussions and to express diverging ideas in order to try to bring a bit more clarity into everyday complexity.
One of the positive aspects of LSP is that participants can make the future seem more tangible. Because the methodology relies heavily on building models and using metaphors to get there, it is a truly engaging process. Although not all employees have the same level of creativity, LSP provides a platform which encourages people to experiment and test their own boundaries.
Throughout the process, the facilitator plays an important role; he or she continuously ensures that the discussion is about the model. If someone has something to say, they have to build it first – this means that people internalise the so-called "thinging"  i.e., pointing with their hands.
During the process, the participants will notice that empathy plays a particularly important role. LEGO® Serious Play® is not only about your own opinion, no, you must equally interact with and take the opinion of others into account.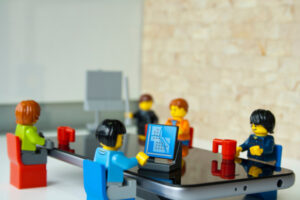 Conversely, this means that LSP is a methodology which encourages participants who are otherwise more reticent to speak up. Quite often, many good ideas lie dormant in the heads of those who tend to speak up less often. Moreover, it is not an option to just sit back and talk past the topic; through the constant orientation towards the model created and the aforementioned "thinging" approach, everyone is encouraged to participate actively in the workshop.
It is important to mention that not all companies face the same VUCA environment; an organisation's situation depends on its business context. In addition, employees across different hierarchical levels may experience this quite differently. Furthermore, it is key to see the opportunities that come within a complex environment, especially in terms of benefitting from any ensuing innovation.
Is LSP a methodology that would theoretically work in every company? Absolutely. However, as already mentioned above, you must apply it at the right time and not expect too specific a result. Experience shows, however, that you first must clarify with the client whether the methodology is a match with their current. As a facilitator, you must first get the buy-in from the decision-maker(s) before applying the methodology, this is essential to minimise the risk of meeting with too much demotivation or even resistance right from the start.
What conclusion can be drawn from this? There are not only positive opinions about LSP; some feel that too much "playfulness" on the part of the workers does not always lead to creative ideas, but rather to stress for those who do not want to participate in such workshops. Our own experience to date has shown that this is rarely the case. All the LSP workshops we have conductede.g. to innovate business models or formalise a shared vision, have received very positive final feedback, partly due to the teambuilding note these workshops include. It is safe to say that some people, who were initially critical, were rapidly convinced once they had been part of the LSP experience!  
Let us help you!
What can you expect from LSP workshop with MindForest?