How Business Intelligence can Fuel Digital Transformation
According to Furr and colleagues, digital transformation is as much about organizational change as it is about digital. [1]
At MindForest we totally agree with this approach and we think that digital transformation is at the very intersection between people management, IT and business.
If you forget one of the elements is going to be more difficult to really make the change happen and to make your project a real success.
So what's the glue that connects IT, HR and business? Of course, it is Data!
Today data can and should be used to fuel our businesses and to spread updated knowledge at all company levels and functions.
Alsghaier and colleagues reported how a team in a specific digital business center worked with McKinsey to analyze if data driven companies were doing better. They interviewed the administrators of 330 public companies asking them about their technology and management policies. The authors found that companies in the highest position of industry which used the data driven decision making approach, were on average 5% more productive and 6% more profitable than other competitors. [2]
The Challenges of Business Intelligence
According to Brownlow and his team the challenges are threefold:
how to extract data
how to refine it
how to ensure it is utilized most effectively.
Businesses and other organizations that fail to align themselves with data-driven practices risk losing a critical competitive advantage and, ultimately, market share and the accompanying revenue. For today's businesses, effective data utilization is concerned with not only competitiveness but also survival itself. [3]
Many companies have already faced the challenge. Business intelligence today helps organizations transform data into business actionable insights. It comprises the strategies and technologies used for analyzing data and presenting actionable information. Common functions of Business Intelligence technologies include reporting, online analytical processing, analytics, data mining, text mining, predictive analytics and prescriptive analytics.
Business Intelligence to Increase Performance
Finally, data can deliver fresh knowledge to every employee's desk. Data can empower people and can make them more accountable for their decisions.
New technologies create value when organisation's leaders go back to the fundamentals:
Digital transformation is often less about a radical rethinking of the business than about learning how to use digital tools to better serve customers.
This may require internal reorganization, including breaking down silos to serve customer needs and use data.
Business Intelligence to Increase Performance
Let's take a look at a project where Business Intelligence has been applied to HR to help managers and employees to improve overall business performance.
An international restaurant chain uses HR data to increase customer satisfaction and revenues. [4] Operating a mix of franchised outlets, as well as corporate-owned restaurants, the company was suffering from annual employee turnover significantly above that of its peers. Business leaders believed that closing this turnover gap could be a key to improving the customer experience and increasing revenues, and that their best chance of boosting retention lay in understanding their people better.
They started by:
defining the required data and KPIs:

Employee personalities
Behaviour is data-filed
Financial data
defining the KPIs to be predicted:

Speed of food delivery
Customer satisfaction KPIs
Sales
Data was shared with a full business intelligence solution and after four months results were already positive in the first market:
Customer satisfaction up 100%
Sales increased by 5%
Some managerial assumptions were disproved
Values and leadership styles were deemed more important than extra compensation
It appears that executives who can complement experience-based wisdom with analytically driven insight stand a much better chance of linking their talent efforts to business value.
Business intelligence applied to HR helped managers:
Explore and discover new data and insights about business and HR processes.
By using one source of truth, company's leadership shared much faster insights, comments and actions to take.
Results could be shared easily with middle managers and restaurants managers in each market: new knowledge empowered people to change choices and behaviour.
But why this is possible? How can data help change internal processes?
Let's analyze the difference between an offline reporting system and a modern online business intelligence solution.
Table 1 describes the main differences in different dimensions.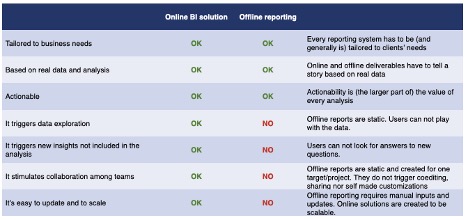 Let's explore: An online business intelligence platform allows employees to explore data and to interact with the technological solution.
Sharing is caring: Online data can be commented with a team and easily shared with the rest of the organization.
Team collaboration: shared and centralized databases empower people to collaborate more easily and to leverage the same source of truth to make decisions.
The Benefits of Business Intelligence for Your Business
Based on past experience, at MindForest we think that business intelligence could help develop different skills depending on organisational roles:
For managers:
The ability to manage, overview and anticipate the business value generated from data.
The ability to push data visualisation techniques and data driven processes to the lowest level of an organisation.
For the end users:
The ability to find, manage, organise, store and share digital information, data and contents.
The ability to critically analyse, evaluate and/or interpret information, data, content and their sources.
The ability to work with and champion information in order to make decisions and to achieve specific business goals.
We totally agree with Gartner when they describe how organization-wide disruption is also causing dramatic shifts in culture and capabilities. [5] New skills are emerging, and existing skills are evolving and expiring. At a macro level, there is near-universal demand for digital dexterity – a set of beliefs, mindsets, and behaviours that help employees deliver faster and more valuable outcomes from digital initiatives. Just as digital technology is now fully within the purview of all organizational leaders, so is the question of digital-ready talent. In progressive companies, business leaders work proactively to surface these tensions, acknowledge tough trade-offs and help leaders set and articulate priorities. The result is more effective culture-informed judgment by employees and better performance.
At MindForest, we have always been working to help our clients face new transformational challenges.
Let us help you
Would you like to learn more about how to implement a proper business intelligence strategy in your business?
[1]      N. Furr, J. Gaarlandt, and A. Shipilov, "Don't put a digital expert in charge of your digital transformation," Harv. Bus. Rev., 2020.
[2]      H. Alsghaier, M. Akour, and S. Aldiabat, "The impact of big data analytics on business competitiveness," 2017.
[3]      J. Brownlow, M. Zaki, A. Neely, and F. Urmetzer, "Data and Analytics – Data-Driven Business Models : A Blueprint for Innovation Blueprint for Innovation," 2015.
[4]      C. Arellano, A. DiLeonardo, and I. Felix, "Using people analytics to drive business performance: A case study," McKinsey Q., vol. 2017, no. 3, pp. 114–119, 2017.
[5]      Gartner, "Every Organizational Function Needs to Work on Digital Transformation," Harv. Bus. Rev., pp. 1–5, 2018.