Future Strategy: Not Just looking Ahead, but Looking Around the Corner
Nowadays the Internet is plastered with tips about how to deal with the current economic crisis, although just over one year ago it was impossible to anticipate the changes that were soon to come. One could say the same about the Covid crisis, even though scientists had been warning of the risk of a pandemic for many years, so – at least in theory – it should have been possible to implement some sort of contingency planning.
When looking ahead, and assuming that all crystal balls have been mothballed, it is vital to already have a good overview of the current market situation, as well as a clear idea of where you want to be in 5/10 years. Afterall, if you do not set yourself goals, how can you possibly measure whether you have met your own expectations and/or what changes need to be made to optimise your approach? A start-up will define a business plan, but what about an existing, successful company, how will they approach future challenges?
In order to define a strategy, you of course need to look back and assess what went well, but above all look ahead and anticipate what could and should be happening during the next few years. All too often economic history has shown that successful companies have rested on their laurels and have then not only been overtaken by their competitors, but completely thrown off course and relegated to an inconsequential role.
There are a wide range of business methods available to help decision makers draw up a coherent future strategy, one of which is the well-known Blue Ocean Strategy developed by the INSEAD professors Chan Kim & Renée Mauborgne. When faced with a shark-infested red ocean, the obvious alternative is to look for the best way to navigate towards the open blue waters of the sea of opportunities. Thus, the ERRC matrix evolved as a means to guide users through a process of opportunity and strategy evaluation: Eliminate, Raise, Reduce and Create.
By asking yourself these questions: 
The advantage of working with the grid ensures that a wide variety of factors are analysed and taken into account.
Creating a Unique Advantage
In the past many household brands have used this method to reinvent their products and services, one of the best known is Apple, whose use of the matrix resulted in the development of the iPhone, iPod, iTunes etc. The breakthrough came by identifying how to turn a technical advantage into a global market advantage, even to the extent of creating a new market for their services. At the time this approach was revolutionary and created a massive, lasting advantage for the Apple brand.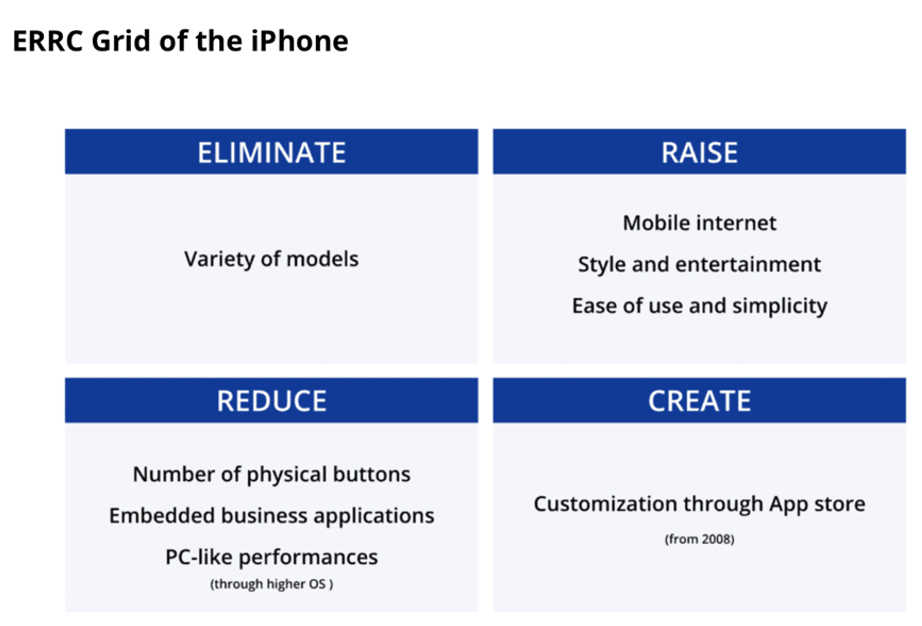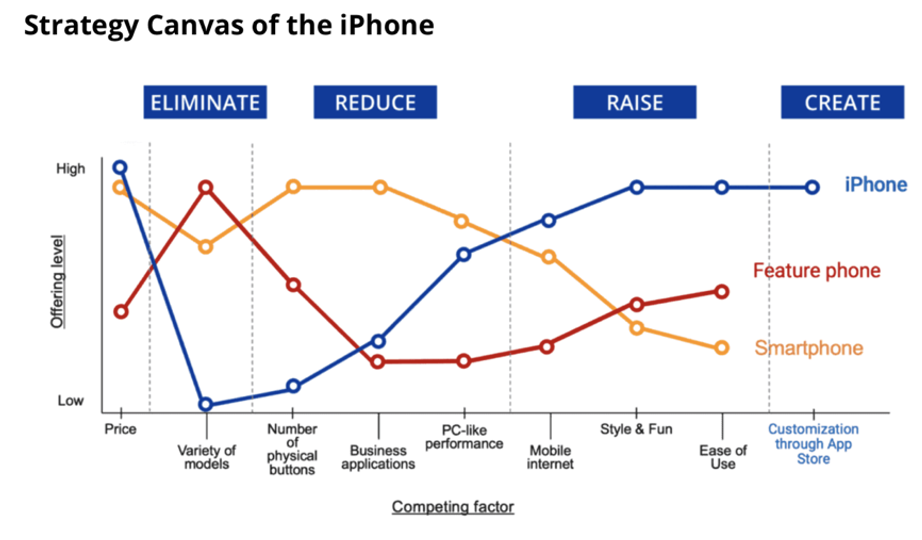 Apple was already a successful company with a strong brand and sizeable market share, but management realised the need to define a long-term strategy to differentiate themselves and bypass competitors. Using the ERRC method they were able to ask themselves questions such as: what if we made it possible for someone to access their two favourite titles on a CD, so they don't have to buy the whole CD? The basis for the concept had been laid with the Sony Walkman/Diskman, where people could record from the radio on to a cassette/CD, but the process was messy (there was always a risk that the DJ would start talking before the end of the song!); Apple's solution was easy and legal. The effect was rounded off by a tailored communication campaign "Dare to be Different", which associated the products with innovation, and the success of the new product range surpassed 
The video associating Apple with national hero went viral:
Understanding How to be Different
There are many other examples of companies entering a highly competitive market and using this method to define how to create their specific niche. For example, Citizen M Hotels created the slogan "for the wise not the wealthy". They succeeded in identifying the needs of a prospective target audience and creating a chain of trendy 3* hotels, which offered many services generally attributed to a 5* hotel, but at a lower, more competitive price.
This was their ERRC matrix:
Front desk and concierge service
Bellhops and doormen
Full service restaurants and room service
Lobby
Sleeping environment
Prime location
Free movies on demande, phone-calls at VoIP rates, free instant high-speed internet & lots of plugs for guests' gadgets
Guest room types
Room size
Price compared to luxury hotels
Kiosks for 3-minute self check-in
Communal living environment with 24/7 bar, pantry & iMacs
Multi-tasking "ambassadors"
By paying a lot of attention to visuals, they created a unique and trendy atmosphere providing the right impact to appeal to their target. The rooms themselves were compact, but efficient e.g. with enough plugs, a good bed & excellent shower, this left more space for communal areas and thus a hotel stay became a hotel experience for guests. Only prime locations were selected, they were easily accessible and there was no need for a (costly) restaurant, as there were plenty of others in the immediate vicinity. In this way, rather than competing in the red ocean, the chain created its own market with very high occupancy rates (around 90%) and excellent customer reviews – again of great importance to their target group and a source of free on-going publicity.
This was their strategy canvas[1]: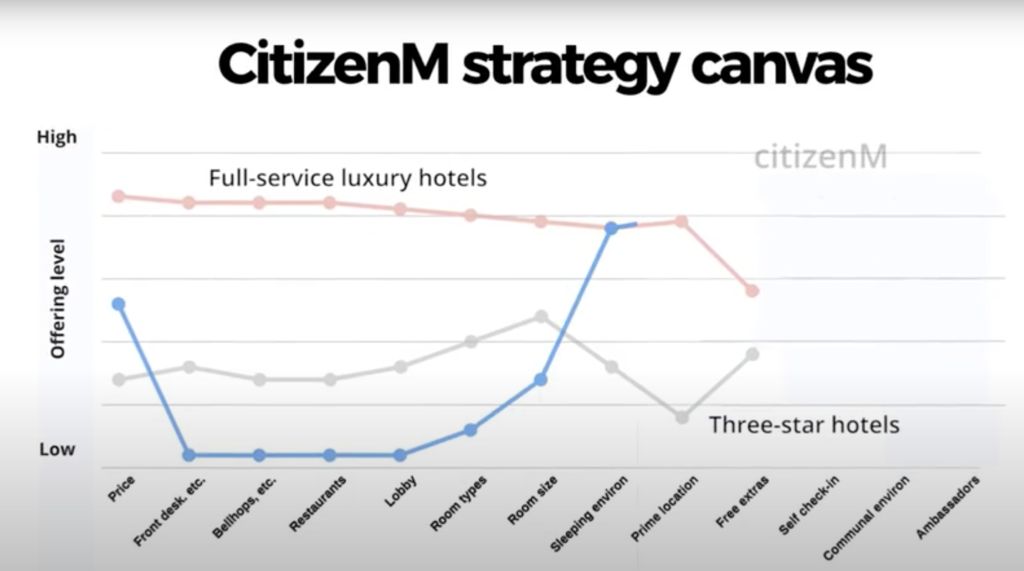 The Advantage of Using This Method
Many companies try to develop their strategy under time pressure and are thus tempted to take shortcuts. They may try to find out what their competitors have in the pipeline, to improve on existing products and services, or to introduce cost-cutting measures. These are obviously necessary in the world of business, but they will not create a cutting edge strategy.
There are very many highly successful companies around the world, which sell high-end products, because they have identified a real need among their clientèle, one could even go so far as to say they have created a need among their client base. Take for example luxury goods; how many companies have succeeded in creating a mystique about their products linked to a kind of subscription sales strategy: you are only eligible to purchase product 'z' if you alread possess products 'x' and 'y'. There are no loyalty points, no price reductions, but their clients wait patiently for the right to spend vast sums of money! Needless to say, this type of strategy is applicable to a very specific market, but the idea of creating a need for something remains. We do not actually need to eat salty snacks or drink expensive soft drinks, neither of which are healthy, but most people are tempted to buy them when passing through the supermarket aisles. Their producers have created a need for their products.
This is, in the widest possible sense, the aim of using the ERRC matrix: how can we set ourselves apart and create a unique selling proposition? How can we create client expectations and meet them without pricing ourselves out of the market? How can we assess our market strategy more candidly and avoid falling back into established patterns? It is clearly a challenge to evaluate every aspect of the current business model but by doing so from the perspective of the client, a company is able to identify new market potential and thus ensure its long-term future.
To quote Steve Jobs: "It's really hard to design products through focus groups. A lot of times, people don't know what they want until you show it to them"
[1] All diagrams and charts courtesy of Blue Ocean Strategy developed by Chan Kim and Renée Mauborgne https://www.blueoceanstrategy.com/blog/7-powerful-blue-ocean-strategy-examples/