"The power of strategic foresight" by Delano magazine
As a continuation of MindForest's collaboration with Luxembourg School of Business on the topic of early warning signals, the Luxembourg business publication Delano sat with MindForest's consultants Marion Malchair, who took part in the joint research team, and Tom Reuland, to discuss the power of strategic foresight for companies.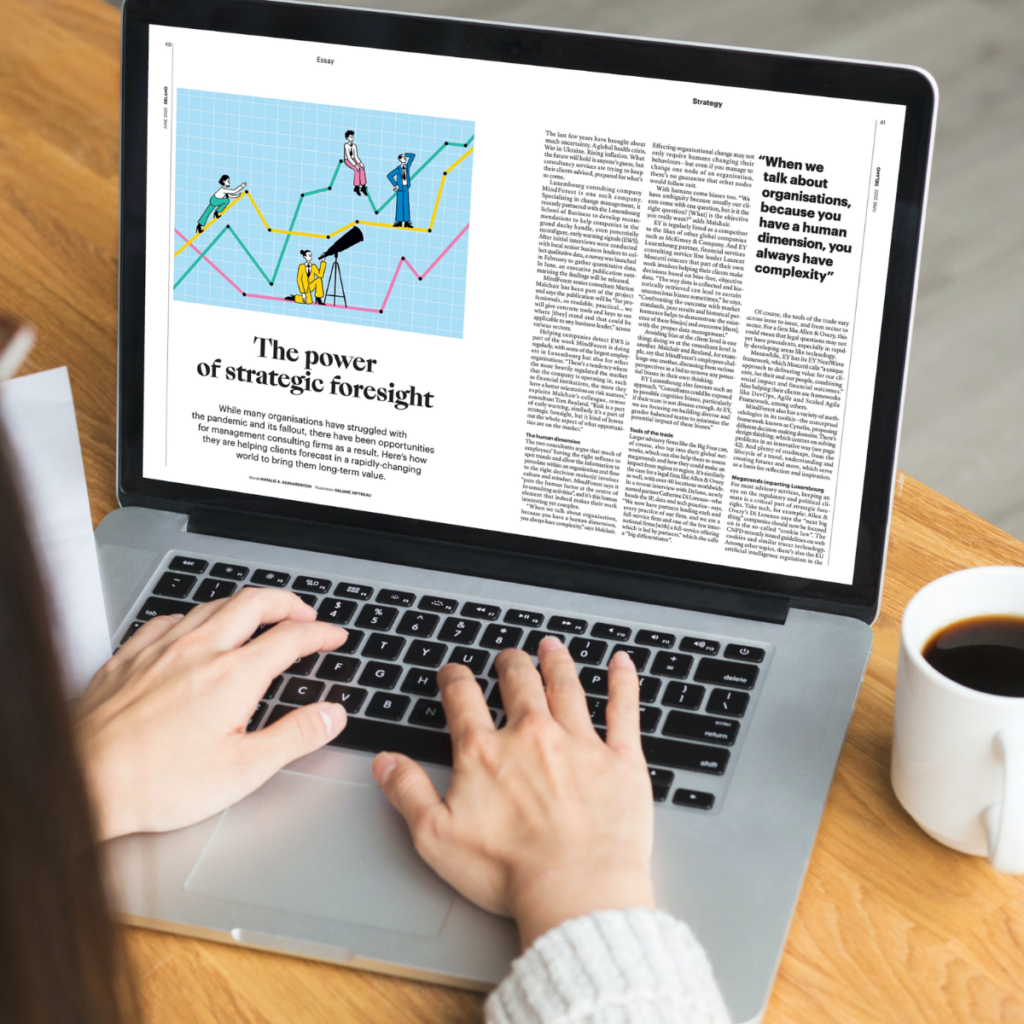 While many organisations have struggled with the pandemic and its fallout, there have been opportunities for management consulting firms as a result. Here's how they are helping clients forecast in a rapidly-changing world to bring them long-term value.
The last few years have brought about much uncertainty. A global health crisis. War in Ukraine. Rising inflation. What the future will hold is anyone's guess, but consultancy services are trying to keep their clients advised, prepared for what's to come.
Luxembourg consulting company MindForest is one such company. Specialising in change management, it recently partnered with the Luxembourg School of Business to develop recommendations to help companies in the grand duchy handle, even potentially reconfigure, early warning signals (EWS). After initial interviews were conducted with local senior business leaders to collect qualitative data, a survey was launched in February to gather quantitative data. In June, an executive publication summarising the findings will be released.
MindForest senior consultant Marion Malchair has been part of the project and says the publication will be "for professionals, so readable, practical… we will give concrete tools and keys to see where [they] stand and that could be applicable to any business leader," across various sectors.
Helping companies detect EWS is part of the work MindForest is doing regularly, with some of the largest employers in Luxembourg but also for other organisations.
"There's a tendency where the more heavily regulated the market that the company is operating in, such as financial institutions, the more they have a better orientation on risk matters," explains Malchair's colleague, senior consultant Tom Reuland.
The two consultants argue that much of employees' having the right reflexes to spot trends and allow the information to percolate within an organisation and flow to the right decision maker(s) involves culture and mindset. MindForest says it "puts the human factor at the centre of its consulting activities", and it's this human element that indeed makes their work interesting yet complex.
says Malchair. Effecting organisational change may not only require humans changing their behaviours–but even if you manage to change one node of an organisation, there's no guarantee that other nodes would follow suit.